Germany crushes Brazil, World Cup Semifinal
Standard analysis
Germany crushed Brazil in the 2014 World Cup Semifinal, with a final score of 7-1. Germany scored a barrage of early goals and led Brazil 7-0 with a 79th minute strike by forward Andre Schurrle, his second of the match. The five prior goals scored by the Germans in the first 29 minutes of the match is the fastest all time, according to ESPN.
But in an attempt to save Brazil from total humiliation, midfielder Oscar scored its lone goal just seconds before the game ended.
The score makes the most goals ever in a World Cup semifinal. As Germany reveled in the win that sends their team to play the winner in Wednesday's match between Argentina and Netherlands, Brazilians were left to wonder how their footballers -- the host team -- could lose so badly.
While we have found that sporting events rarely correspond to big deviations in the GCP data, this was such an unusual and engrossing moment in the World Cup that a formal event was set for the period of the match, from 20:00 to 22:00 UTC. The result is Chisquare 7359.4 on 7200 df for p = 0.093 and Z = 1.324.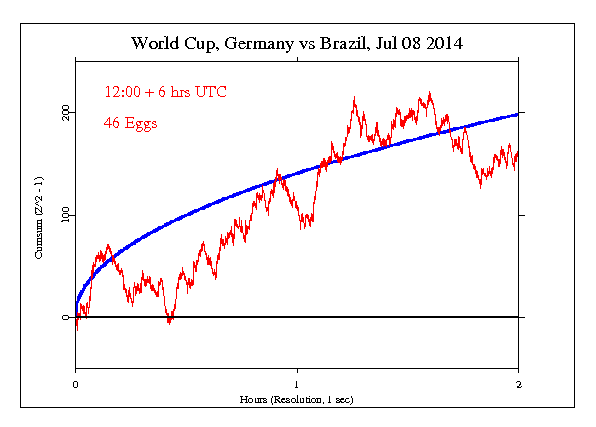 Standard Caveat: It is important to keep in mind that we have only a tiny statistical effect, so that it is always hard to distinguish signal from noise. This means that every "success" might be largely driven by chance, and every "null" might include a real signal overwhelmed by noise. In the long run, a real effect can be identified only by patiently accumulating replications of similar analyses.