Terror attacks in Yemen and France
Sanaa
Two terror attacks associated with Yemen occured on 7 January 2015. The first was an early morning suicide bombing in Sanaa, Yemen. A car bomb tore through dozens of Yemenis lined up at a police academy in Sanaa on Wednesday, killing 37 in the latest attack highlighting the country's growing instability.
Police said another 66 people were wounded in what it described as a "terrorist bombing" targeting potential police recruits, in a statement cited by the official Saba news agency. Witness Khaled Ajlan said the early morning blast targeted dozens of "new students who were registering at the police academy".
Unstable and impoverished Yemen has been hit by a wave of violence in recent months, with a powerful Shiite militia, known as Huthis, clashing with Sunni tribal forces and the country's branch of Al-Qaeda.
Paris
The second attack garnered more attention from the media because it was an attack in Paris killing editors and cartoonists. Gunmen shot dead 12 people at the Paris office of French satirical magazine Charlie Hebdo in an apparent militant Islamist attack. After the attack, police warned French media outlets to be on alert and pay attention to security.
The rampage began around noon when the suspects killed a receptionist to gain entrance to the offices in central Paris, then opened fire on a second-floor editorial meeting, killing 10 people, including eight journalists, Molins said. The officers were killed during the suspects' getaway, he said.
Eleven others others were injured, including four who were listed in serious condition. At least 15,000 gathered at the Place de la République for a vigil after the three gunmen, wearing hoods and armed with Kalashnikov automatic rifles, stormed the offices of Charlie Hebdo shouting Islamic phrases. The publication is a satirical newspaper that has caricatured the prophet Mohammed in the past.
Eight journalists, a guest and two police officers were killed, said Paris prosecutor Francois Molins, giving a partial breakdown of the dead. Among those killed were Bernard Maris, an economist who was a contributor to the newspaper and was heard regularly on French radio, and cartoonists Georges Wolinski and Berbard Verlhac, better known as Tignous.
President Francois Hollande called it a terrorist act "of exceptional barbarism," and said that other attacks have been thwarted in France in recent weeks. Fears have been running high in France and elsewhere in Europe that jihadis returning from conflicts in Syria and Iraq will stage attacks at home.
Specific Hypothesis and Results
The GCP event was set for 12 hours beginning at 05:00 GMT, to include both events, which were about 6 hours apart. I could not get exact time for the car bombing, but it was described as early in the morning, local time; our event beginning corresponds to 08:00 in Yemen. The result is Chisquare 43514.386 on 43200 df, for p = 0.143 and Z = 1.069.
Interpretation
The following graph is a visual display of the statistical result. It shows the second-by-second accumulation of small deviations of the data from what's expected. Our prediction is that deviations will tend to be positive, and if this is so, the jagged line will tend to go upward. If the endpoint is positive, this is evidence for the general hypothesis and adds to the bottome line. If the endpoint is outside the smooth curve showing 0.05 probability, the deviation is nominally significant. If the trend of the cumulative deviation is downward, this is evidence against the hypothesis, and is subtracted from the bottom line. For more detail on how to interpret the results, see The Science and related pages, as well as the standard caveat below.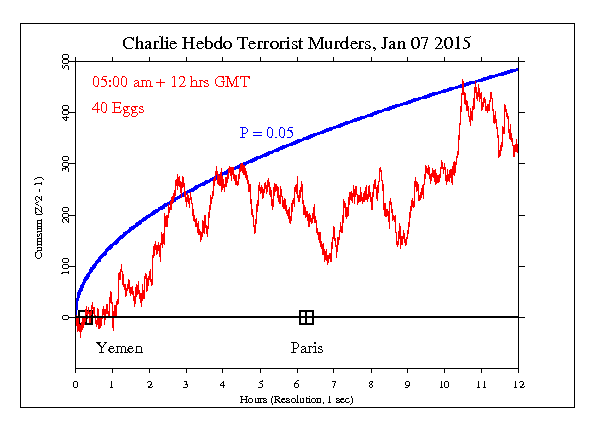 Standard caveat
It is important to keep in mind that we have only a tiny statistical effect, so that it is always hard to distinguish signal from noise. This means that every success might be largely driven by chance, and every null might include a real signal overwhelmed by noise. In the long run, a real effect can be identified only by patiently accumulating replications of similar analyses.