Landslide in Afghanistan
Standard analysis
(CNN) -- A double landslide that first buried an Afghanistan village and then hundreds of rescuers is a mass grave holding thousands of people after authorities found that digging for bodies in 50 meters of mud and rock was impossible, officials said Saturday.
The Friday tragedy was so devastating -- even a wedding ceremony was waylaid in the slide -- that Sunday will be a day of national mourning, the Afghan presidential palace said. A memorial ceremony was planned for late Saturday.
The first landslide swallowed 300 to 400 homes in the Argo district of Badakhshan province in northeastern Afghanistan where an estimated 2,700 people resided, authorities said.
In a rescue, almost 600 people from a nearby village volunteered to help dig people out, but a new landslide occurred and consumed many, if not all, of them, too, said Shah Waliullah Adeeb, the provincial governor of Badakhshan.
The governor's office said at least 2,000 people died in the slides.
The landslide crashed down around noon Friday. The governor said a wedding ceremony was taking place at the time. The GCP event was set for late morning 11:30 local time (07:00 UTC), to continue for 24 hours. The result is Chisquare 85787 on 86400 df for p = 0.930 and Z = 1.476.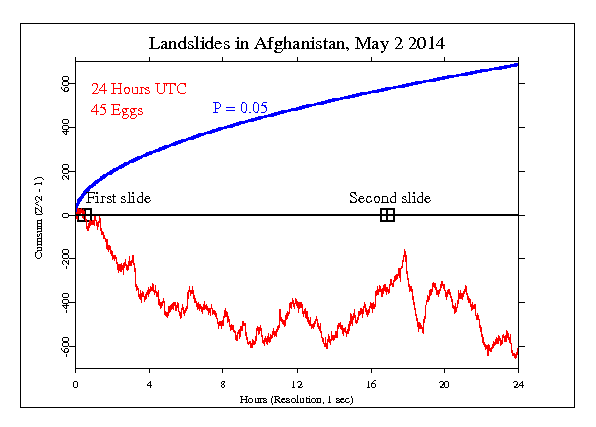 Standard Caveat: It is important to keep in mind that we have only a tiny statistical effect, so that it is always hard to distinguish signal from noise. This means that every "success" might be largely driven by chance, and every "null" might include a real signal overwhelmed by noise. In the long run, a real effect can be identified only by patiently accumulating replications of similar analyses.