BAGHDAD, June 8 --Abu Musab al-Zarqawi, the mastermind behind hundreds of bombings, kidnappings and beheadings in Iraq, was killed early Wednesday by an airstrike --north of Baghdad, U.S. and Iraqi officials said Thursday.

Zarqawi, a Jordanian-born high-school dropout whose leadership of the insurgent group al-Qaeda in Iraq made him the most wanted man in Iraq, was killed along with several other people near the city of Baqubah, the officials said. Iraqi and U.S. officials announced June 8 that Abu Musab al-Zarqawi, the leader of al-Qaeda's terror operations in Iraq, was killed by a U.S. airstrike. Zarqawi played a major role in escalating the Iraq insurgency and terror attacks on civilians. U.S. warplanes dropped two 500-pound bombs on a house in which Zarqawi was meeting with other insurgent leaders.

Peter Bancel suggested the news release early on June 8 as a global event. The formal prediction was for 07:00 to 15:00 UTC, June 8, allowing enough time for early morning news in the US.

The result is a negative trend, with Chisquare 28591 on 28800 df, for p=0.808 and Z=-0.869.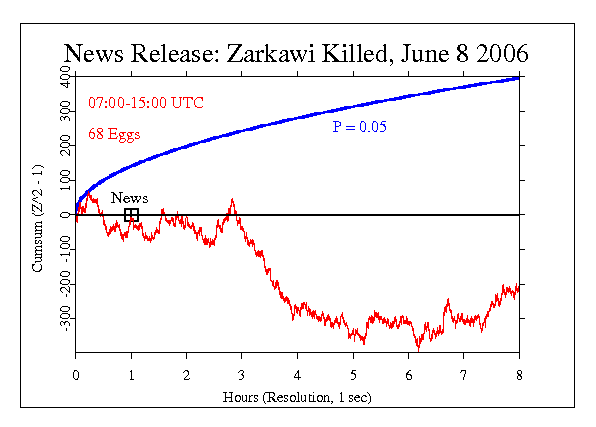 We also looked at the time of the death, which was about 15:15 UTC on June 7th. The following figure shows the GCP activity around that time. While it may be just a coincidence, the extraordinary trend that begins about the time of the bombing and continues for about 5 minutes is thought provoking. It looks as if the network responded. However, this brief spike of consistent deviation cannot be tested for significance since we had no prediction for it.