Speaking at a memorial service at the University of Arizona in Tucson, President Obama honored the victims of last weekend's shooting rampage in that city, sharing thoughts about those who had died and lauding the heroic behavior displayed during and after the attack. Mr. Obama also spoke of the ideal of representative democracy; Saturday's shooting had taken place at a meet-and-greet for constituents -- called "Congress on your Corner" -- hosted by Rep. Gabrielle Giffords (D) of Arizona, who was gravely injured in the attack.
Obama stunned the assembled crowd by revealing that Congresswoman Giffords had opened her eyes for the first time since the attack right after the president and his wife visited her in her hospital room. Giffords's husband, space shuttle commander Capt. Mark Kelly, sat next to Michelle Obama in the front row.
But amid the expressions of hope and mourning, the president also dove into the national controversy over whether political passions and inflamed rhetoric had created a climate conducive to the attack by the gunman.
"At a time when our discourse has become so sharply polarized -- at a time when we are far too eager to lay the blame for all that ails the world at the feet of those who happen to think differently than we do -- it's important for us to pause for a moment and make sure that we are talking with each other in a way that heals, not a way that wounds," said Obama, speaking at the university's McKale Memorial Center.
The GCP event was set for 4 hours, from 5 to 9 pm local time (00:00 to 04:00 UTC). The result is Chisquare 14318.128 on 14400 df, for P = 0.684 and Z = -0.479. Obama spoke from about 5:40 to 6:10 (this is a rough guess).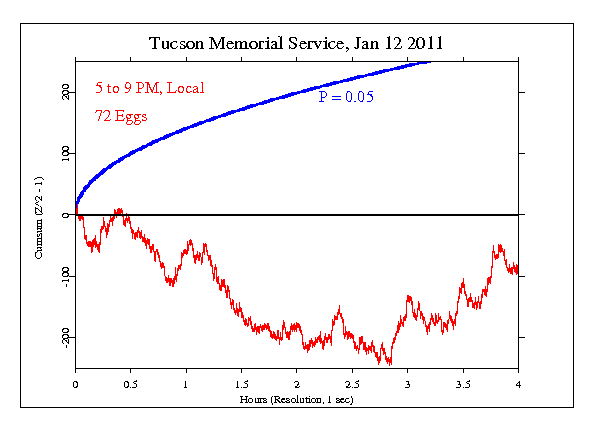 It is important to keep in mind that we have only a tiny statistical effect, so that it is always hard to distinguish signal from noise. This means that every "success" might be largely driven by chance, and every "null" might include a real signal overwhelmed by noise. In the long run, a real effect can be identified only by patiently accumulating replications of similar analyses.