Russian Coal Mine Explosion MOSCOW (Reuters) - Rescue teams re-entered one of Russia's largest coal mines on Sunday in a bid to find 83 people trapped underground by two methane explosions after a build up of gas halted the search for most of the day, officials said.
Twelve people died and another 41 were injured in two methane explosions at the Raspadskaya mine in Siberia's coal-rich Kemerovo region 3,000 km (1,850 miles) east of Moscow late on Saturday, the Emergencies Ministry said. Sixty-four miners and 19 rescuers were unaccounted for underground over 24 hours after the first explosion just before midnight (1700 GMT) on Saturday. Both explosions were caused by methane gas build-up, the ministry said.
The number of dead has in the meantime increased to at least 60 according to CNN, with another 30 still missing.
The GCP event was set for 16:55 plus 7, hours GMT. The result is Chisquare 25521.474 on 25200 df, for p = 0.077 and Z = 1.429.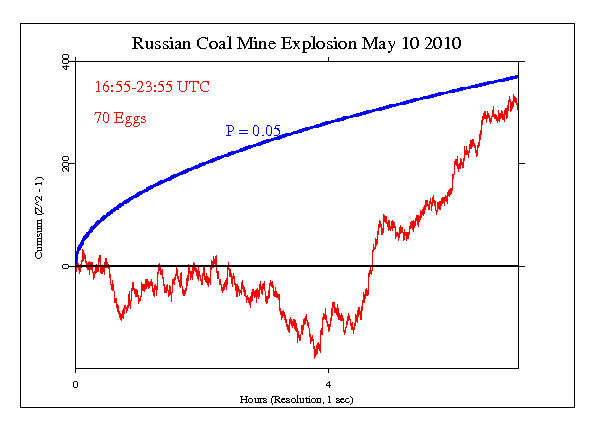 It is important to keep in mind that we have only a tiny statistical effect, so that it is always hard to distinguish signal from noise. This means that every "success" might be largely driven by chance, and every "null" might include a real signal overwhelmed by noise. In the long run, a real effect can be identified only by patiently accumulating replications of similar analyses.