From Sydney Morning Herald:
... red cloth screens cordoned off a side chapel that will soon draw as many visitors as Michelangelo's Pieta nearby.

Starting today, that side chapel is where the entombed remains of Pope John Paul II will be on view for public veneration - after Pope Benedict XVI presides over the biggest spectacle since his own installation in 2005: a beatification Mass that will move his adored predecessor a step closer to sainthood.

The beatification is widely seen as a way not just to honour John Paul but also to energise the Catholic Church after a rough patch. Yet, like John Paul's 26-year papacy itself, it has become intensely polarising. Advertisement: Story continues below

For one thing, Benedict waived the traditional five-year wait and began the process just weeks after John Paul's death, and critics across the Catholic spectrum have questioned the alacrity. Others say the vast sex abuse crisis that emerged under John Paul is grounds against sainthood.

Defenders, however, say the beatification is simply the formal seal of approval for a wildly popular pope who helped bring down communism and whom many Catholics, especially in his native Poland, already consider a saint. Hundreds of thousands are expected in Rome, the biggest crowds since 2005, when cries of ''Santo subito'' or ''Sainthood now,'' erupted at John Paul's funeral Mass. ''This beatification is different because this pope is different. He's a man with a role in history, not just in church history,'' said Andrea Riccardi, founder of liberal Catholic group the Community of Sant'Egidio, and a biographer of John Paul.
The GCP event was set for the full 24 hour GCP day, which is 02:00 May 1st to 02:00 May 2nd local time in Rome. The timing is arbitrary, but the attention of millions is unquestionable. News reports estimate 1.5 million are in Rome to attend the beatification ceremonies, and some large part of those masses are expected to file by the exhumed remains of this potential saint. The result is Chisquare 86586.497 on 86400 df, for p = 0.326 and Z = 0.450.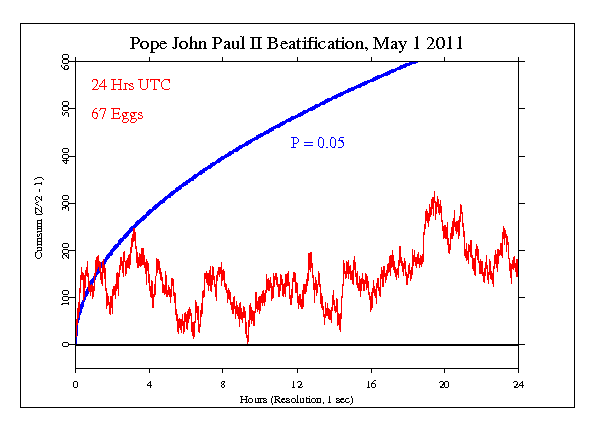 It is important to keep in mind that we have only a tiny statistical effect, so that it is always hard to distinguish signal from noise. This means that every "success" might be largely driven by chance, and every "null" might include a real signal overwhelmed by noise. In the long run, a real effect can be identified only by patiently accumulating replications of similar analyses.