From The Globe and Mail: From The Globe and Mail:
Dozens Killed as twin blast rock Damascus.

Two strong explosions ripped through the Syrian capital Thursday, killing more than 40 people and leaving scenes of carnage in the streets in an assault against a centre of government power, officials said.

Syria's state-run TV said 170 people were wounded in what one official said may have been the most powerful of a series of blasts that have hit the capital this year. More related to this story

The explosions, which ripped the facade off a military intelligence building, happened at about 7:50 a.m. local time when employees are usually arriving at work. The building is part of a broader military compound for a feared section of the intelligence services known as the Palestine Branch.
The GCP event was set for 07:00 to 13:00 local time (03:00-09:00 UTC). The result is Chisquare 21525.709 on 21600 df for p = 0.639 and Z = -0.355.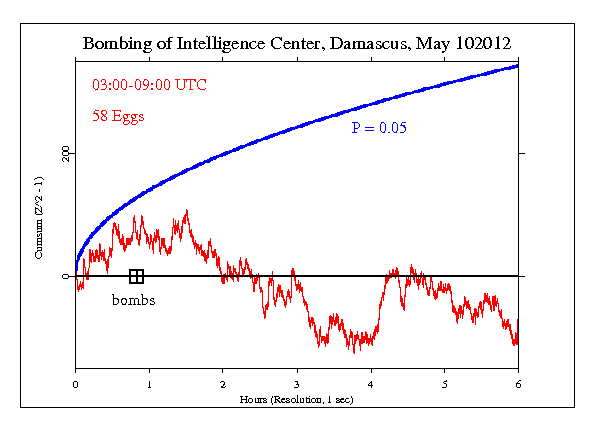 It is important to keep in mind that we have only a tiny statistical effect, so that it is always hard to distinguish signal from noise. This means that every "success" might be largely driven by chance, and every "null" might include a real signal overwhelmed by noise. In the long run, a real effect can be identified only by patiently accumulating replications of similar analyses.