From ABC news: By DEAN SCHABNER and KAREN TRAVERS (@karentravers) May 1, 2011
Osama bin Laden, hunted as the mastermind behind the worst terrorist attack on U.S. soil, has been killed, President Obama announced tonight.

The president called the killing of bin Laden the "most significant achievement to date" in the effort to defeat al Qaeda.

"Justice has been done," Obama said.

Bin Laden was located at a compound in Abbottabad, Pakistan, which was monitored and when the time was determined to be right, the president said, he authorized a "targeted operation."

"A small team of Americans carried out the operation," Obama said. "After a firefight, they killed Osama bin Laden and took custody of his body."

DNA testing confirmed that it was bin Laden, sources told ABC News.

Obama said tonight that he was briefed last August on a possible but "far from certain" lead to bin Laden, but it took many months for the intelligence community to "run this thread to ground."

"I met repeatedly with my National Security team as we developed more information about the possibility that we had located Bin Laden hiding within a compound deep inside Pakistan," the president said.

"Finally, last week I determined that we had enough intelligence to take action and authorized an operation to get Osama Bin Laden and bring him to justice," he said.

Sources said the attack was carried out by Joint Special Operations Command forces working with the CIA.
Several of GCP's analysts agreed that this was an obvious event for inclusion in our formal series, and discussed the appropriate parameters. The GCP event was set for a 24 hour period beginning with the first public presentation of information in the form of a tweet at 22:24 ET, a little more than an hour before President Obama made the formal announcement at 23:35. This corresponds to UTC 02:24 May 2nd to 02:24 May 3rd. The result is Chisquare 86550 on 86400 df, for p = 0.358 and Z = 0.363.
We expect to present additional exploratory analyses. The first of these is a look at the data from US nodes only, by Peter Bancel, using normalized data. The result is nearly identical to the full network outcome, with Z = 0.300, and a similar cumulative deviation history.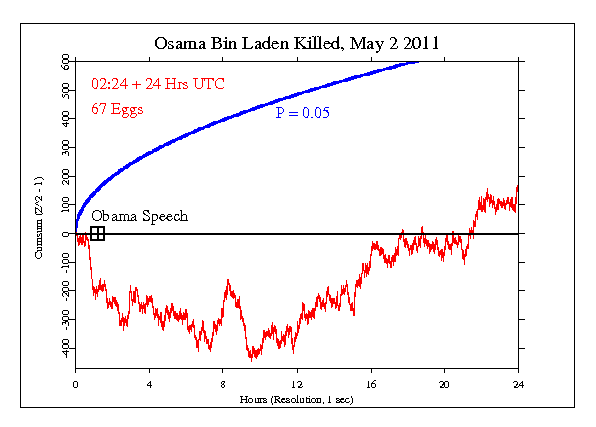 It is important to keep in mind that we have only a tiny statistical effect, so that it is always hard to distinguish signal from noise. This means that every "success" might be largely driven by chance, and every "null" might include a real signal overwhelmed by noise. In the long run, a real effect can be identified only by patiently accumulating replications of similar analyses.