On June 1 2009, an Air France jet with 228 people on a flight to Paris vanished over the Atlantic Ocean after flying into towering thunderstorms and sending an automated message that the electrical system had failed. A vast search began Monday, but all aboard were feared killed.
The four-year-old Airbus A330 left Rio Sunday night with 216 passengers and 12 crew members on board, said company spokeswoman Brigitte Barrand. Most of the passengers were Brazilian and French, but 32 nations in all were represented, including two Americans.
The plane was cruising normally at 35,000 feet and 522 mph just before it disappeared nearly four hours into the flight. No trouble was reported as the plane left radar contact, beyond Brazil's Fernando de Noronha archipelago, at 10:48 local time.
But just north of the equator, a line of towering thunderstorms loomed. Bands of extremely turbulent weather stretched across the Atlantic toward Africa, as they often do in the area this time of year.
The plane "crossed through a thunderous zone with strong turbulence," Air France said. About 14 minutes later, at 11:14 p.m. local time, an automatic message was sent reporting electrical system failure and a loss of cabin pressure. Air France said the message was the last
In the meantime, fears have been confirmed and searchers have found some wreckage and have recovered a few bodies that are almost certainly passenger from the ill-fated flight.
The GCP event was set for an 8 hour period beginning about the time of takeoff, apparently shortly after 19:00 local time. This is 22:00 Sunday, May 31 to 06:00 Monday June 1, UTC, about the time the plane was to have arrived in Paris. The result shows Chisquare 29025.358 on 28800 df, for p = 0.174 and Z = 0.939.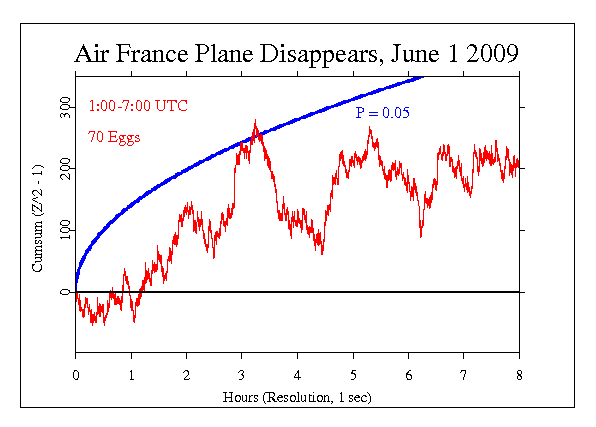 It is important to keep in mind that we have only a tiny statistical effect, so that it is always hard to distinguish signal from noise. This means that every "success" might be largely driven by chance, and every "null" might include a real signal overwhelmed by noise. In the long run, a real effect can be identified only by patiently accumulating replications of similar analyses.